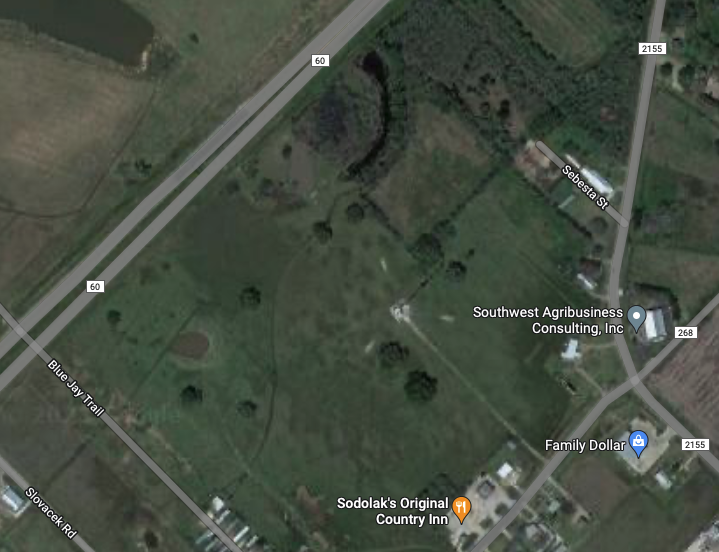 Satellite Image of C-LARs' New 37 Acre Property
Located in Snook, TX the property is less than 10 minutes away from Easterwood Airport (CLL) and Texas A&M University.
New Manufacturing Location In Snook, Texas
C-LARs is excited to announce that it recently closed on the purchase of 37 acres for the construction of a purpose-built manufacturing, spooling, and testing facility.  Located in Snook, TX the property is less than 10 minutes away from Easterwood Airport (CLL) and Texas A&M University.  
Current facility plans are still in the process of being developed.  Approximately 10-12 acres will be dedicated specifically to C-LARs, LLC.  The remaining acreage will be dedicated to future commercial and business development.  
Plans For A New Facility:
Phase one construction plans include a 25,000 square foot manufacturing building with 50 tons of crane service, a coatings facility, and machine shop.  
Phase two construction plans include special spooling and testing facilities, with the intent to include a test tank that will allow for full scale testing and integration of remote operating vehicles (ROV) with launch and recovery systems (LARs).
Significant Improvements For Product Development
Following the company's property purchase, Adam Janac, Executive Vice President of C-LARs, LLC stated:
"As we continue our product development initiatives, specifically in electric winches and electric a-frames for work class ROVs, it is important that we test these products in the most robust and safest manner possible.  Launching and recovering an ROV in and out of the water better replicates the real world dynamics of the design intent of the equipment, something that simply cannot be achieved with just concrete and steel."
While referencing the local economic benefits that this new deal is hopeful to bring to the local community of Burleson County, Janac acknowledged that:
"Snook is known for three things:

State championships (18 total across 5 sports),
Chicken fried bacon, and
The best kolaches you've ever eaten.

We want to add launch & recovery systems to that list,"
Janac further discussed how both Burleson County and Snook have experienced tremendous growth in recent years due to the continued expansion of Brazos County and Texas A&M University.  
"What I remember as farmland in the early 2000's is now a 300+ home residential development, with more developments in various stages of planning.  For the community to continue to grow, it needs to have a healthy mix of businesses and jobs to support it.  The opportunity to locate our business here and become a foundation within the local community was something that Keith and I simply could not pass up.  It is a fantastic location in a growing and developing area situated directly on a major thoroughfare, with a world class university and engineering school just mere minutes down the road.  One of our core values is "Community", and we look forward to being able to embody that value by being a stakeholder in partnership with the community on all fronts."
Established in 2015, C-LARs, LLC is an ISO 9001:2015 certified manufacturer of engineered winches, launch & recovery systems, hydraulic cylinders, sheaves, and associated deck equipment. The company serves a global client base, including aerospace, oceanographic, military, government, and commercial users.
For More Information
If you would like to learn more about how C-LARs can provide you with engineering solutions and products, please reach out to any member of our leadership or sales team. We look forward to hearing from you!