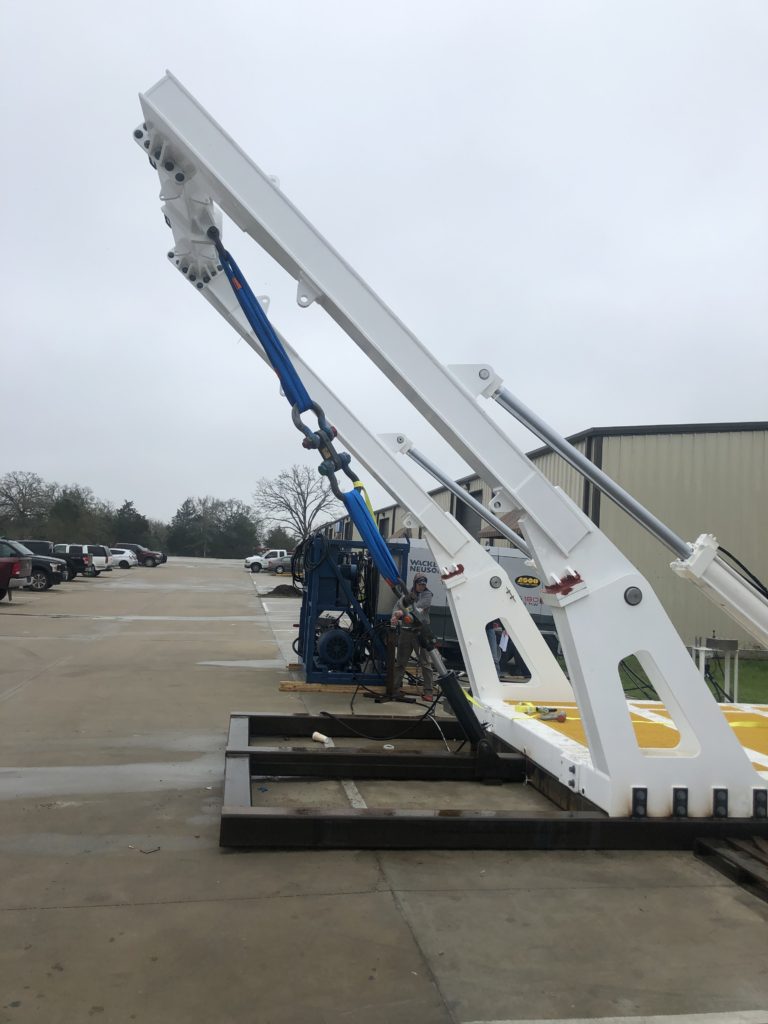 College Station, TX USA. 19 FEB 2020 – C-LARs, LLC, an established supplier of engineered marine products and field services announces the delivery of portable A-frame system to Ocean Exploration Trust.
Jon Zand , Senior Engineer for Ocean Exploration Trust, attended the factory acceptance testing in College Station in early February. "OET's ROV engineers approached C-LARs in need of a custom A-Frame to launch our Sled ROV," he stated. "They delivered a robust and adaptable solution within our short timeline. We are pleased with the operation demonstrated during the Factory Acceptance Test and look forward to mobilizing it into shipboard operations."
Adam Janac, C-LARs Executive Vice President stated, "It is always a pleasure to work with Ocean Exploration Trust. Our team was able to make effective and efficient use of resources, creating tremendous value for our customer in the form of cost savings. We were able to move from design concept to delivery in 16 weeks. We look forward to more opportunities like this in the future to demonstrate our ability to deliver a cost effective, custom engineered solution on time."
Engineered, manufactured, and fully tested at C-LARs's College Station, TX facility, the Model 440 A-frame is designed to meet DNV standard DNVGL-ST-0378. It is rated at 13 tonnes over-boarding and 7 tonnes luffing. The cross member is designed to accept an over-boarding sheave, but its modular design provides the capability to accommodate a docking head system. At less than 23,000 lbs total weight and fully disassembled, all the components of the a-frame can be shipped in a standard ISO container.
About C-LARs, LLC – Established in 2015, C-LARs, LLC is a supplier of engineered winches, launch & recovery systems, hydraulic cylinders, sheaves, and associated deck equipment. Additionally, C_LARs provides field and repair services supporting defense, oceanographic, and subsea customers world wide.
For More Information, Contact Adam Janac
979-575-2841